11:57 p.m.
Time for the daily film fest Twitter round up. Here's an excerpt of what people tweeted today:
@shane_elliott: The State Theater that @MMFlint Michael Moore renovated is friendly, inexpensive, comfortable and has style #TCFF http://t.co/JrNtlbHb
@bellakat87: Volunteering for the midnight showing of Rocky Horror at the OTP! #tcff
@femmnoir3: Favorite part of the festival so far is an elderly couple who are so gangsta they will sit in any reserved seat #TCFF
@Wildflower1945: @TCFF walked out on "Compliance" tonight along with half, if not more of the audience. Disgusting and degrading. What do U think?
@voraciousfilmgo: Lots of walkouts and a couple heated Q&A questions for @Pat_Healy with COMPLIANCE, a truly tough, terrifying and worthwhile film. #TCFF
@TCFF: Temps will reach the mid-90′s on Sat. Bring water and an umbrella. We'll also walk the line selling water. Stay cool, TC!
6 p.m.
So, what's it like to see yourself on film growing up, figuring out what it means to be a woman and deciding what kind of person you want to be?
"It's a little strange," said Winnifred Bonjean-Alpart, 15. "Really awkward."
Documentary filmmakers Ronna Gradus and Jill Bauer followed Winnifred as she navigated the perils of social networking and growing up in New York City. Winnifred's story is interwoven with the stories of former porn star and pole dancer extraordinaire Nikita Kash and a young woman who wants a labiaplasty. The result is "Sexy Baby," an at-times uncomfortable look at the hard reality of growing up female in a highly sexualized culture.
Winnifred, her mother and the two directors answered questions following last night's Milliken Auditorium screening. The audience had the most questions for Winnifred. One wanted to know if she felt the most pressure from fellow girls or guys?
"What girls value comes from what guys value a lot of the time," Winnifred responded.
Here, a photo of Winnifred, far left, her mother, and the directors at the film festival screening:

3:30 p.m.
We just posted a snippet of video from last night's conversation between actress Kristen Bell and Traverse City Film Festival Founder Michael Moore. In the clip, Bell tells the Lars Hockstad audience about meeting her fiance Dax Shepard at a Red Wings game. (A very appropriate meet-cute for two very cute Michiganders).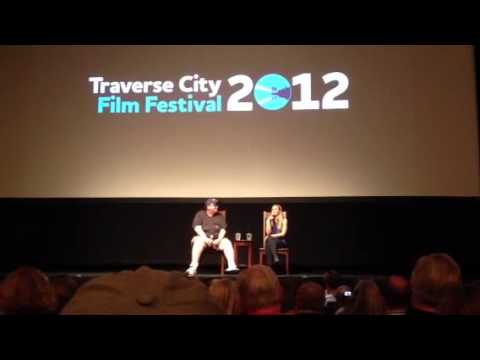 In this clip from last night's Q-and-A, Bell shares how the film is part "love letter" to cars and the role she had in making the film: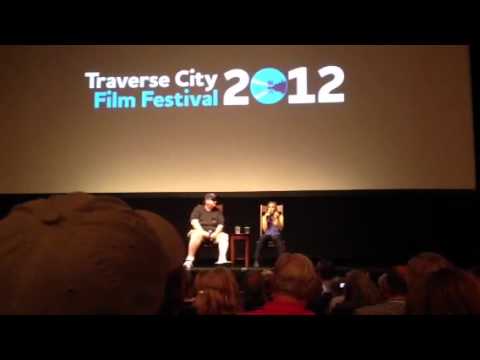 2:10 p.m.
Following this morning's panel, I spoke to Michigan Film Commissioner Carrie Jones about why not as many movies are filmed in northwestern Michigan. The region has the scenery, but it's the accessibility to crews it lacks, she said.
Most of the trained film crews are based out of the state's southeast corner, where direct flights connect L.A. to Detroit.
Recent projects filmed in this area include "Beside Still Waters," which shot in the Petoskey area.
11:55 a.m.
Catching my breath here and catching up. Let's talk Kristen Bell, OK? The Veronica Mars and Forgetting Sarah Marshall star had only a couple hours to spend in Traverse City, and she spent a good bit of that time on stage at Lars Hockstad Auditorium. She answered audience questions after a special screening of her yet-to-be-released film "Hit & Run."
The actess wore slim-fitting dark pants and a purple top as she chatted comfortably with festival Founder Michael Moore. A highlight was hearing the actress rave about her fiance Dax Shepard, a Milford native who wrote, directed and starred opposite real-life love Bell. Their chemistry shined through in this dark comedy romp that boasts long car chase scenes. Shepard is a huge gearhead, Bell said, and the cars were primary characters in the film.
"It's a bunch of genres in a blender," Bell said, of "Hit & Run," which mixed tender moments with action-packed chases, bloody fights and one wild nude scene involving a half dozen senior citizen-types in a hotel room.
Bell said the production actually placed a Craigslist ad to find extras willing to strip down for the hotel room shot. The ad explained the job as "full nudity with big stars," she said. Six people responded, and they all showed up for the filming day.
Bell, a Huntington Woods native, vacationed with her family in Petoskey, where she "loved collecting Petoskey stones." As a child she loved theater, and went to New York University for two and a half years before dropping out after booking her first big acting job. She still enjoys musical theater and will voice a new Disney princess in the upcoming movie "Frozen." That role fullfils the "first goal I ever set as a 6 year old," she told the audience last night.
11:15 a.m.
This morning's panel didn't have the star-power of this week's earlier film festival panels that showcased actress Susan Sarandon or film directors. The crowd that showed up this morning to observe a meeting of the Michigan Film Office Advisory Council was much smaller. In fact, the City Opera House had more seats open than taken.
The council members fielded questions about the state's transition to a grant-based instead of tax credit-based film incentive program. A few, including festival Founder Michael Moore, expressed their feelings about the office's dwindling (or, at least different – depending on whom you ask) resources.
"It has been decimated," said Moore, of the state's current film program, which he compared to an "old Gateway computer." "We're all trying to be polite about this."
9:00 a.m.
Before we head over to the panel, we wanted to give you this glimpse into last night's Q-and-A between fest Founder Michael Moore and actress Kristen Bell. They showed up to answer questions and partake in some lively banter following a screening of Bell's new film "Hit & Run."

8:30 p.m.
This morning's panel is a meeting of the Michigan Film Commission, starting at 9:30.  Tonight's Open Space movie is "When Harry Met Sally."
We'll post updates about last night's event with Kristen Bell and give you a glimpse into the conversation spurred by the doc "Sexy Baby."So check back in between your films and have a great day.