This dish was inspired when I stumbled onto one recipe for chilaquiles (tortillas simmered in a spicy tomato sauce) and then onto one for huevos rancheros. Hot dang and pass the plate! Where had these two dishes been all my life? The short answer is that they were, with a few exceptions, in Texas, New Mexico, Southern California. Since I've spent my life in Michigan, Kentucky, New York and France, it was no wonder my experience with them was limited.
Yes, I'd had the huevos rancheros before, but chilaquiles were new to me. And since I didn't know any better, I combined the two recipes and performed my own ignorant alchemy on them.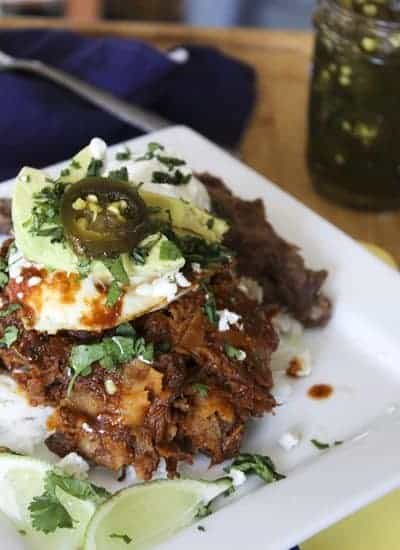 Because what I did resulted in gold. Ugly gold, but certifiable 24-karat food gold. I was struggling for what to call the dish because I think we'll all agree that "Chilaquiles Plus Huevos Rancheros and a Few Extra Things that Don't Really Belong" is somewhat unwieldy.
I consulted a friend with much more experience in this than me. She said, "Call it whatever you want. It's really not either dish." Or something to that effect, but very loving. Also interesting? She told me that both of those dishes are considered hangover food. This brings me to another point…
The plate just looked like a big hot mess to me. Let's be frank. It's not the prettiest thing I've ever turned out of my kitchen, but whooooeee.  Just like Nick Tahoe's Garbage Plates, it was worth forgetting its lack of the pretty. And if you've ever stumbled across the Nick Tahoe's threshold on a late night college tour of Rochester, you know how satisfying an ugly, ugly dish can be.
Because I was feeling silly and full of myself, and I have a serious penchant for word play, I decided to call it a big Hot TexMess. It is what it is. And what it is is delicious. This is my hideous and wonderful creation. I think Nick Tahoe probably felt the same way. Look past the ugly duckling exterior and whip up a big old batch of this for yourself tonight. I promise you will be happy you did.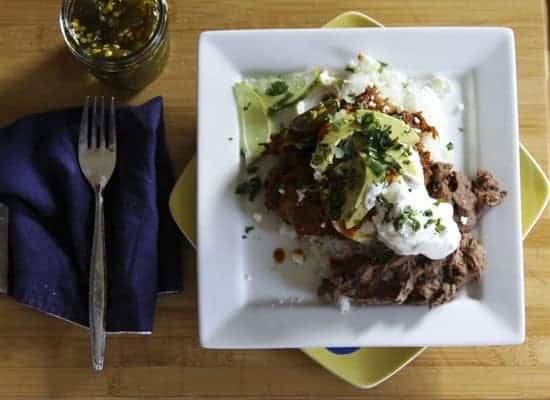 Hot TexMess
Click here and scroll to the bottom for an easy-print version of this recipe!
Yield: Serves four very generously or six with bird-like appetites
Ingredients:
4 cups smoky chipotle and tomatillo salsa (I used homemade salsa, use whatever is your favorite type.)
2-3 cups leftover pulled pork or chicken
12 corn tortillas, stacked and cut into 1-1/2 inch squares
Neutral Oil (such as canola, vegetable) or peanut for frying
2 cups refried beans, heated
4 eggs (or six if you're serving small portions), fried in butter
1 cup crumbled cojita or feta cheese (You can substitute grated Monterey Jack if desired or necessary.)
1 ripe avocado, halved, scooped from the shell and sliced
1/2 of a sweet onion, peeled and finely diced
sour cream or Greek yogurt (How about you make your own?)
candied jalapenos, preferably (If you haven't made them yet, this is the time!) or jarred jalapenos
chopped fresh cilantro
lime wedges
Optional: hot white rice
Heat 2-inches of oil to 350°F in a heavy bottomed skillet over medium high heat. If you don't have a deep-frying thermometer, you can tell the oil has reached the proper temperature when it looks streaky in the pan and a piece of tortilla dropped into it forms many bubbles around the edges immediately. Fry the corn tortillas in batches, stirring frequently, until golden brown and crisp. This should take between 3 and 5 minutes. Use a slotted spoon to transfer the chips to a paper towel lined plate. Sprinkle lightly with salt and set aside.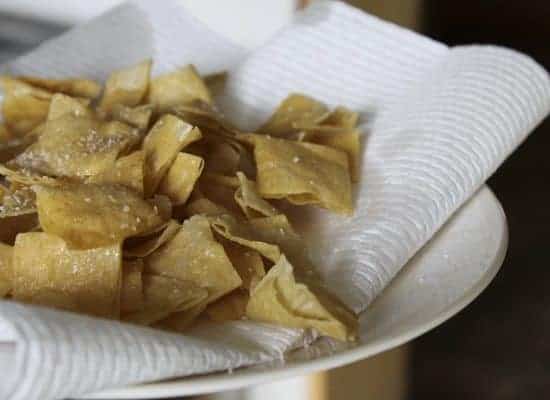 In a heavy-bottomed skillet over medium heat, stir together the pulled pork (or chicken) and the salsa and bring to a simmer. When it reaches a simmer, gently toss in the fried tortillas. Allow to simmer for about 2-3 minutes, or just until the tortillas begin to soften a little. Remove from the heat.
Lay out four (or six) serving plates. If you're using the rice, mound a scoop of rice into the center and press down in the middle to make a well.  Divide the refried beans between the plates and then divide the simmered tortillas and meat between the plates. Top each serving with a fried egg, cheese, onion, chopped cilantro, sour cream, and finally the avocado slices. Serve with lime wedges to squeeze over the top. Dig. In.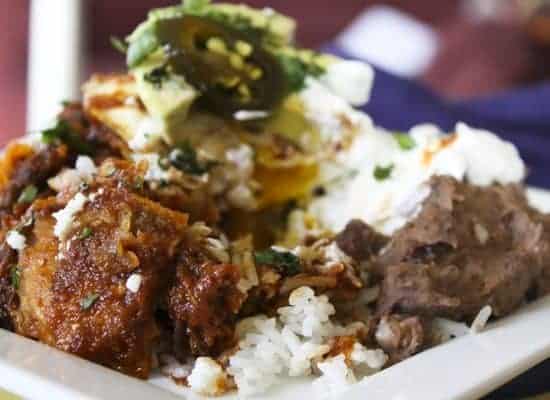 The post above is taken from Rebecca Lindamood's blog archives. For her most recent recipes, kitchen tips and parenting adventures, visit FoodieWithFamily.com. Rebecca also writes a monthly column in the Record-Eagle's Food section.